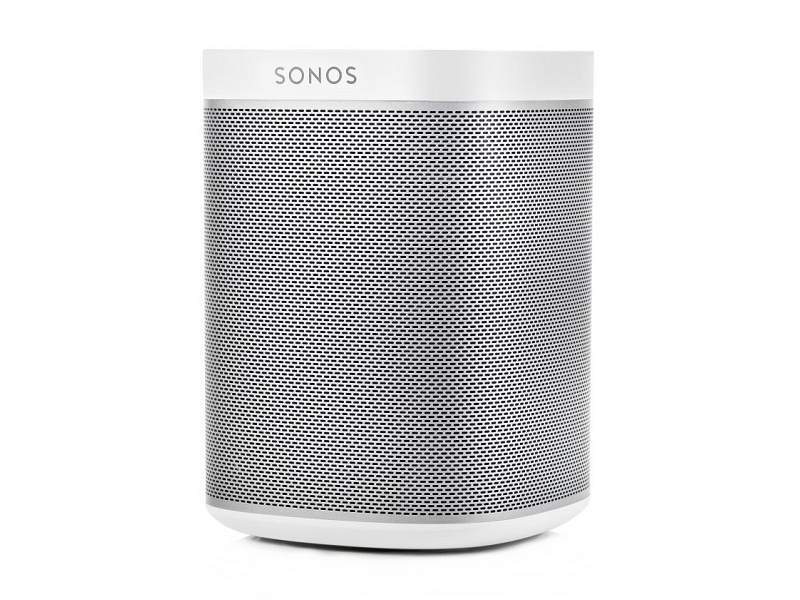 Sonos PLAY:1 Compact Wireless Speaker (White)
The white Sonos PLAY:1 Compact Wireless Speaker lets you stream music from a variety of sources. It connects to your home network via Ethernet, but you can also connect wirelessly with the optional Sonos BRIDGE or through any other Sonos speaker. Once connected, you can stream music from iTunes or another personal music library. You can also stream music from thousands of free Internet Radio stations or from virtually any online music service including Pandora, Spotify, Rhapsody, AUPEO!, TuneIn and many more. You can also stream music from other network connected devices like your iPad or iPhone.
The PLAY:1 works on its own as a single speaker, but it also supports left/right stereo separation when paired with another PLAY:1 speaker in the same room. If you're more ambitious, you can fill every room in your home with any combination of Sonos speakers. And since all Sonos products support SonosNet wireless mesh technology, they all work seamlessly with one another. For instance, if you have a PLAY:1 connected in your room and you add three other Sonos speakers in different rooms, the wireless SonosNet technology will link all four speakers together. Once they're all connected, you can simultaneously stream different music to each room/speaker or stream the same source on all four speakers and listen to one song in every room throughout your entire home.
Whether you're playing music on a single PLAY:1 in your bedroom or streaming different music to multiple rooms, the free Sonos Controller App is what ties the entire system together. The app allows you to control your PLAY:1 and additional Sonos speakers from anywhere. It also makes setup easy and it allows you to control multiple Sonos speakers in different rooms simultaneously. You can even adjust the volume for each speaker individually or collectively. The app is available for iOS, Android, PC and Mac.
The PLAY:1 speaker employs a mid-woofer and a tweeter, which are powered by independent Class-D amplifiers. The result is warm, full-range sound with clear highs and powerful bass. The speaker also has a 1/4″-20 standard thread on the back that makes it compatible with most wall-mounting brackets. The PLAY:1's other features include convenient top panel control buttons and a humidity resistant enclosure that can withstand high-humidity so you can keep the speaker in the bathroom – even while you shower.
Full-Range Sound & Dedicated Class-D Digital Amplifiers
The PLAY:1's custom-designed 3.5″ mid-woofer and tweeter both feature dedicated Class-D digital amplifiers that afford warm and rich full-range Hi-Fi sound. The mid-woofer provides deep, powerful bass and mids, while the tweeter yields clear highs.
Expand Wirelessly with Additional Sonos Speakers
The PLAY:1 is an independent speaker unit, but it is also a building block designed to connect seamlessly with any other Sonos product. Since all Sonos speakers work together, you can add more products over time to create a complete and totally wireless home audio system. If you do add additional speakers, you'll be able to stream the same song simultaneously throughout your home or different music to every room.
Built-In SonosNet Wireless Mesh Network Capability
The PLAY:1 and all other Sonos products use built-in SonosNet technology to establish their own secure wireless mesh network that also works with your Sonos app-enabled iOS/Android/PC/Mac controller devices. This network provides whole-house coverage, synchronous music playback and protection against wireless interference. The SonosNet system also incorporates sophisticated MIMO (multiple input, multiple output) technology that uses multiple antennas and radios to boost signal strength.
Control Your PLAY:1 with the Sonos Controller App 
The free Sonos Controller App makes it easy to setup and control you PLAY:1. It also supports additional Sonos speakers and multi-room control, so you can manage and operate a whole-house Sonos setup with just your smartphone. The app will work from anywhere and it's available for iOS (iPad/iPhone), Android mobile devices, PC computers and Mac devices.
Stream Music from Virtually Any Personal or
Internet Music Source 
With the Sonos Controller App and your PLAY:1 speaker, you can to wirelessly stream music from your iTunes library or Windows Media Player personal music library. You can also stream music from thousands of free Internet Radio stations or online music services (without turning on your computer) including 7Digital, 8Tracks, Amazon Cloud Player, AUPEO, Dar.fm, Deezer, Hearts of Space, iHeartRadio, JB Hi-Fi NOW, JUKE, Last.fm, MOG, Murfie, Napster, Pandora, Qobuz, Rdio, Rhapsody, SiriusXM Internet Radio, Simfy, Slacker Radio, Songl, Songza, Spotify, Stitcher SmartRadio, TuneIn, Wolfgang's Vault, WiMP and more (some services require subscriptions).
Create True Stereo Separation by Linking Two PLAY:1 Speakers 
If you want to listen to music and enjoy movies/TV with true 2-channel stereo separation, all you need is an additional PLAY:1 speaker. Linking two PLAY:1 speakers together in the same room will create a stereo pair with separate left and right channels. The result will be a richer, more immersive sound.
PLAY:1 owners can create a complete 5.1-channel surround sound system by pairing it with an additional PLAY:1 speaker, a Sonos PLAYBAR and a Sonos SUB (all sold separately). This optional setup supports true 5.1-channel surround sound for immersive entertainment that will transform your living room into a complete home theater. Plus, it all works together wirelessly and can be set up in a matter of minutes.
Connect Wirelessly with a Sonos BRIDGE or Additional Sonos Speakers 
If you want to place the PLAY:1 in another room away from your home network router, you'll have to connect an optional Sonos wireless BRIDGE to your router. However, if you have more than one Sonos speaker, you can connect one of them via Ethernet cable to the router, which will create a SonosNet network that additional Sonos speakers can connect to wirelessly.
Compact Size for Flexible Placement 
The PLAY:1 will fit just about anywhere in your home thanks to its compact size, integrated 1/4″-20 thread for wall mounting and custom designed power cord. The speaker's continuous curve grille supports a wide listening range as well, which affords even greater flexibility.
Convenient Top Panel Controls 
If you don't have your smartphone or tablet nearby, you can easily control the PLAY:1 by using the buttons located on the top panel of the device. Pressing the Play/Pause button once will start or stop the music and pressing it twice will skip to the next track. The top panel also has volume up/down controls.
Easy to Wall-Mount 
The PLAY:1 comes equipped with a standard 1/4″-20 threaded insert for connecting to most standard wall-mounting brackets.
Humidity Resistant 
The PLAY:1 is designed to withstand humidity so it can survive in your bathroom – even while you're taking a shower. However, it is not waterproof or water-resistant.
Designed for Simple & Fast Setup
To get started, just plug the PLAY:1 into the nearest power outlet
Connect your PLAY:1 to your home Internet router with the included Ethernet cable
For wirelessly connectivity, connect to an optional Sonos BRIDGE or other Sonos speaker
Download Sonos Controller App to finish connection and configuration of the PLAY:1 speaker